Leather USB Drive Diplomat 544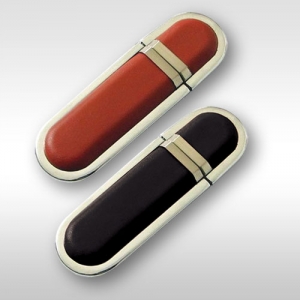 The leather USB stick Diplomat 544 has a sophisticated and elegant look. The leather finish with metallic elements gives the flash drive a luxurious feel. Your logo can be imprinted on the flash drive by screen printing or laser engraving.
Size: L x W x H - 80mm x 26mm x 19mm
Material: Leather with metallic elements
Memory capacity: 1G, 2G, 4G, 8G, 16G or more
We offer custom printed, branded promotional products with free shipping to Bulgaria, Greece, Romania, Italy, Croatia, Hungary, Poland, Austria, Belgium, Czech Republic, Denmark, Estonia, Finland, France, Germany, Ireland, Latvia, Lithuania, The Netherlands, Poland, Portugal, Slovakia, Slovenia, Spain, Sweden and the United Kingdom for all orders above 500 EUR
If you want to order your customized branded products, please specify quantity, logo colors and the imprint size.