USB Key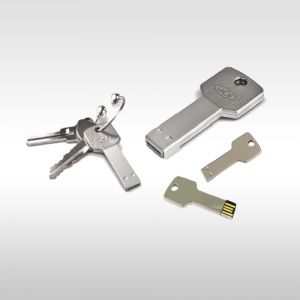 USB flash drive Key. Can easily be worn with a keychain with the rest of your keys. Incredibly convinient. The Key Drive is made with a special micro usb chip to achieve a fineness comparable to a normal key. 
It's an exellent promotional gift for real estate companies, car dealerships, locksmith companies and studios, construction companies, hotels and tourist agencies. 
The company stocks a limited quantity of the key drive. Orders over 100 go with chips of 12М, 1G, 2G, 4G, 8G or 16G.
We offer custom printed, brander promotional products with free shipping to Bulgaria, Greece, Cyprus, Romania, Italy, Croatia, Austria, Belgium, Czech Republic, Denmark, Estonia, Finland, France, Germany, Hungary, Ireland, Latvia, Lithuania, The Netherlands, Poland, Portugal, Slovakia, Slovenia, Spain, Sweden and the United Kingdom for all orders above 300 EUR
If you want to order your customized branded products, please specify quantity, logo colors and the imprint size.