USB drive credit card style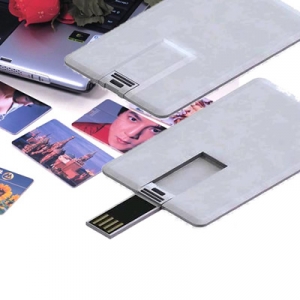 This USB flash drive is shaped like a credit card. Both sides of the USB card can be completely printed in full color. The flash drive has a very modern and elegant design, which makes it the perfect corporate gift.
You can submit a complete design that covers the entire USB card, rather than a single logo. The large brandable area ensures a high prominence for your brand.
We offer custom printed, brander promotional products with free shipping to Bulgaria, Greece, Cyprus, Romania, Italy, Croatia, Austria, Belgium, Czech Republic, Denmark, Estonia, Finland, France, Germany, Hungary, Ireland, Latvia, Lithuania, The Netherlands, Poland, Portugal, Slovakia, Slovenia, Spain, Sweden and the United Kingdom for all orders above 300 EUR
If you want to order your customized branded products, please specify quantity, logo colors and the imprint size.