Printing promotional playing cards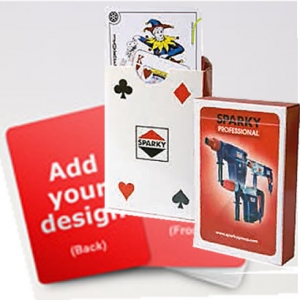 Standart customized printed promotional playing cards are 55 pcs and are printed on a 350gr/m2 coated paper with double side UV. Custom design are cards back. Also a custom full color (CMYK) on both sides carton box is made with a custom design. 
Customized printed playing cards size
Playing cards are 57х 85мм
Customized playing cards box size is  161х 163мм
Custom printed playing cards MOQ 
The MOQ (Minimum Order Quantity) for the custom printed playing cards are 50pcs (box + 50pcs x 55 cards). 
For the best prices we recommend you to order 100pcs if a low quantity of custom printed promotional playing cards, needed or at least 2.000pcs if a huge quantity of printing promotional playing cards.  
We offer custom printed, brander promotional products with free shipping to Bulgaria, Greece, Cyprus, Romania, Italy, Croatia, Austria, Belgium, Czech Republic, Denmark, Estonia, Finland, France, Germany, Hungary, Ireland, Latvia, Lithuania, The Netherlands, Poland, Portugal, Slovakia, Slovenia, Spain, Sweden and the United Kingdom for all orders above 300 EUR
If you want to order your customized branded products, please specify quantity, logo colors and the imprint size.